We know that there are lots of questions to ask, so we've jotted a few down for you. If you can't find what you're looking for then get in touch with us.
[vc_row][vc_column][vc_column_text]
Who can be a member?
Anyone 18 years or over. All we ask is that our members understand that this is an inclusive club and we want and encourage diversity in our owners.
What does it cost?
Our lease shares have different terms and conditions. Please see the details for each horse. The lease starts as soon as your payment is made and the funds have cleared into our account and is for the duration as specified at the point of sale.
Some of our owners, who also can be called members, prefer to purchase part of the horse as an equity share and benefit from the re-sale value. Either way, your monthly fee is inclusive of all training costs.
This is a gift for someone else, what do I do?
Simples! When you complete your purchase at the checkout complete the boxes that indicate this is a gift for someone else. They will own the lease/share, receive any prize money and receive all invites to race days and events. Please make sure you add the email address of the person you are giving the gift to.
What will I get when I buy a lease share/equity share?
Your lease share or equity /share will provide a huge amount of fun and a committed group of like-minded people to go racing with plus:
1. Stable visits to watch your horse train
2. The possibility of access to the owners' and trainers' areas and parade ring on their/her race days
3. Trainer updates and insights
4. Regular updates on your horse
5. Donation to rehoming and a retraining of racehorse's organisation
6. Virtual events
7. Exclusive "Let's Get Racing" membership keyring card *
8. Let's Get Racing owners' badge. Please wear with pride! *
9. Access to the friendliest and most inclusive horse racing club in Britain
Note * Only available for 12 month lease/share
What happens to prize money?
It is important to remember that although all races run in the U.K. have prize money available (bar one run at Newmarket racecourse called the "Wood Ditton"), we recommend you treat your lease share as months of entertainment and fun rather than as an opportunity to make money.
Racehorses are unpredictable and sometimes fragile creatures and we cannot guarantee that our horses will perform sufficiently well enough to win races or to even make a racecourse appearance. However, our trainer will do their best to bring you fun and enjoyment.
The fees you pay Let's Get Racing cover the training costs fees only, all costs provided to us by the trainers of our horses and includes your subscription to The Racing Manager (*if this applies to your horse). These are covered at cost.
Before any prize money owed can be calculated all racing and race-day costs must be met. These include but are not limited to:
Transportation & stable lad costs
Jockey riding fee
Travelling Staff
Trainer prize money deductions
Jockey prize money deductions
Medical treatment charges
Racing equipment (Horse and jockey)
Administrative charges
Racing silks
Transport
Entry fees
Registration fees
Administrative fees
Jockey fees
All Weatherby's deductions
If the prize money earned through a year is less than the total of the racing and race day costs through the year, no prize money will payable. As such, you should consider the main benefit of your lease share ownership to be participation and involvement. Any prize money is an unexpected bonus!
Let's Get Racing keep a running tally of prize money and costs on a race by race basis. We pay any money owing to you  once a year. Each October we will update you of the distributable prize money due and make payments in November at the end of your year-long lease. If you default on your monthly payments at any point or you fail to complete your full year of ownership, you forfeit any prize money owing to you.
What happens to the horse after racing?
When we buy fillies, we race them for 2 or 3 years and then, we hope, they become broodmares producing the next winners for Let's Get Racing. When we have geldings or colts in the Let's Get Racing Club, we endeavour to re-train and re-home them. This means our horses can enjoy second careers and long and happy lives after racing. As part of this commitment, a percentage of your fees are donated to organisations connected to the retraining of racehorses. Typically, we sponsor Yorkshire Racehorse Retraining and Rehoming but this can change at the discretion of the Let's Get Racing team.
How do I renew?
It's dead easy! You renew through the website. We'll send you a little email reminder to prompt you.
I'm a member but need to change my address, email address… How do I do that?
All your details can be changed, please email dawn@letsgetracing.co.uk. Please note the lease or equity /share you purchase is non-transferable, non-cancellable and cannot be sub-divided.
Who runs Let's Get Racing?
Dawn, Maria and Russell are the club managers. They are three friends who love horses, love racing and want to enable new people to experience the joy of horse racing.
We have a separate bank account with Weatherby's for Let's Get Racing and we are committed to the BHA code of conduct who guide us on how to run our club and syndicate.
Can I sell my share or transfer it to someone else?
Your ownership is for the duration the lease one off payment is for the duration of the lease as specified at the point of sale and the lease/equity share you purchase is non-transferable, non-cancellable and cannot be sub-divided.
Can I cancel my share/lease?
Absolutely, please just email us. There will be no reimbursement of any fees paid should you wish to terminate the agreement and you will be liable for any payments missed, no prize money will be paid.. Each share is non-refundable.
Can I meet my horse?
Absolutely, we will arrange yard visits both on week days and weekends and give you at least 3060 days' notice so you can plan your trip. 
We have also arranged visits to the UK horse sales, visits to meet our foals, younger horses and visits to the rehoming and retraining organisations that your fee funds.
We have also arranged race days when our horses are not running. but as owners/member we all head to the track for a day of fun.
[/vc_column_text][/vc_column][/vc_row]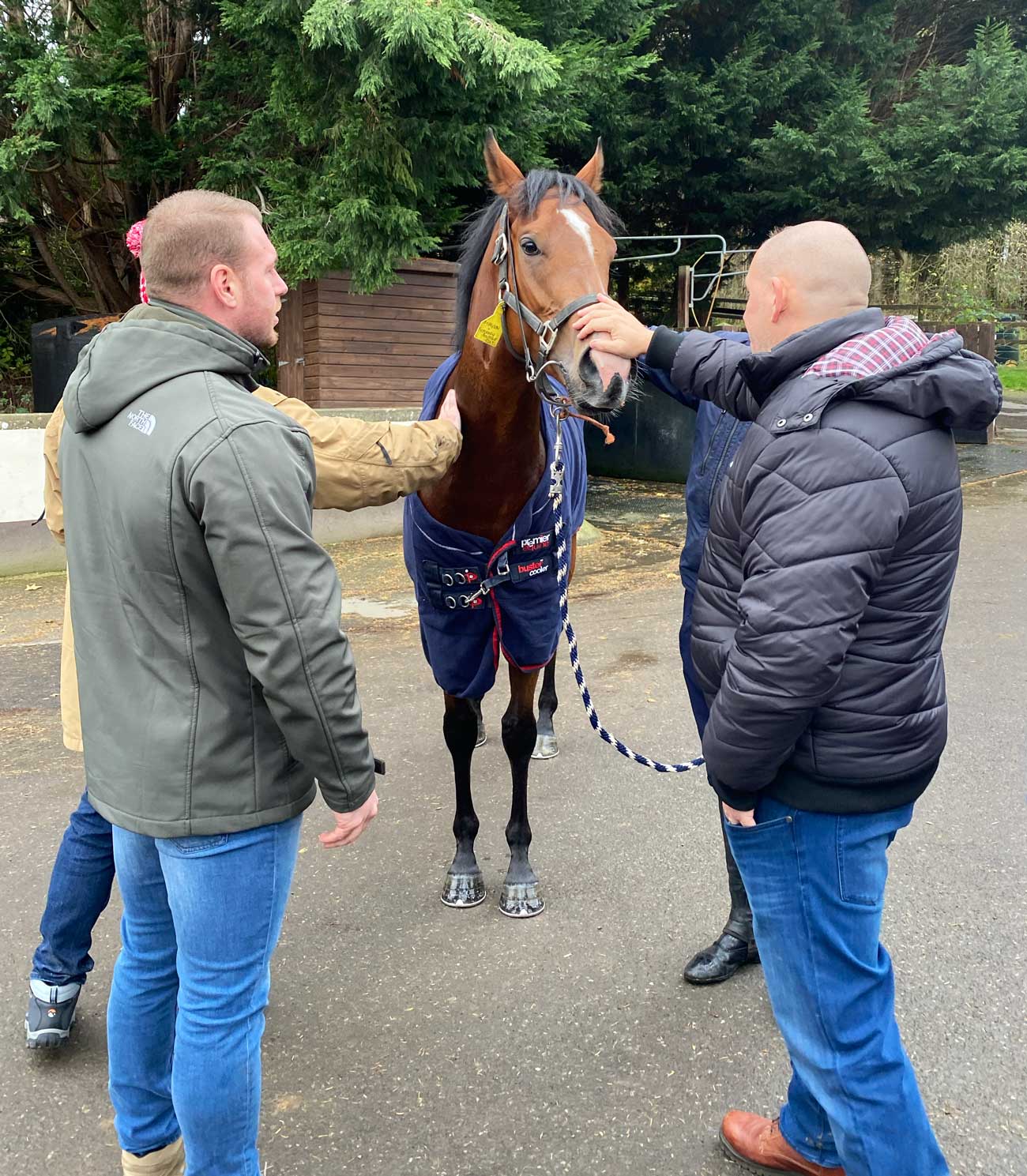 Join our club for only £85 for the whole year.
Be a part of our friendly, inclusive racing club and have regular access to:
The racing manager app to receive updates and insight

Stable and yard visits (around 4-6 every year)

Mares and foal visits

Meet new people

Discounted racing tickets